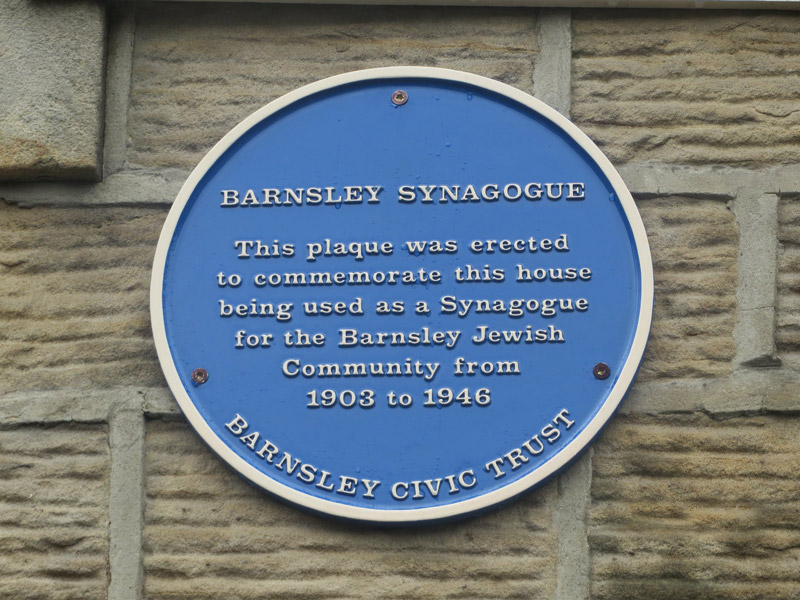 A FORMER synagogue in Barnsley has been commemorated with a blue plaque.
John Love, of the trust, said the synagogue was a house, most likely lived in by a Jewish family who used it for prayer meetings.
John, of Huddersfield Road, Barnsley, said: "I was aware there had been a synagogue, but I had thought it was in Pitt Street, which of course it isn't.
Barnsley had a small Jewish Community with a synagogue at 82 Castlereagh Street that was in use from 1903 -1946.

The blue plaque erected by the Barnsley Civic Trust records the use of the building and the involvement of Jews in Barnsley life.

The Jewish Chronicle reported on 12th June 1903,

"The Jewish families of Barnsley have formed themselves into a congregation, and held a minyan for Pentecost. The officers of the New Briggate Synagogue, Leeds, lent the Sepher".

A month later on 17th July 1903 the Jewish Chronicle noted:

"At a meeting of the congregation, held at 82 Castlereagh Street, the following officers were elected: President, Mr B. Prosser: Treasurer, Mr. M Glass: Secretary, Mr M. Fieldman: Auditors the Rev.I. Dobkin and Mr A. Abelson: Committee, Messrs Finkelstone, Smulawich, Cohen, Berenstine, Diamond and Lewis".

For its first years the small community perhaps at most numbering 100 people had Reverend Israel Dobkin as their Minister. Born in Russia in 1864 he lived at 56 Doncaster Road in the town and as well as being the Jewish Community's Minister he was a picture framer.
… read more on the Jewish Historical Society website