York Purim Spiels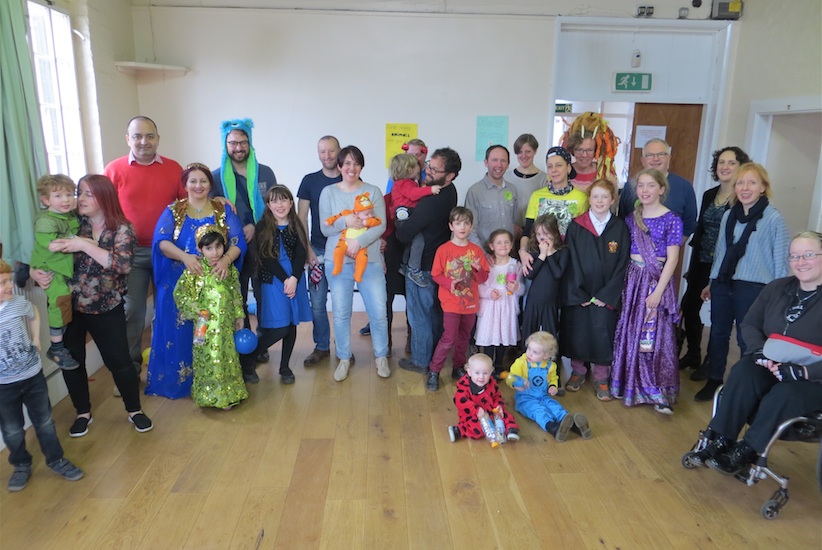 Around 50 members of York Liberal Jewish Community celebrated Purim at two events this year.  On Thursday evening, we celebrated Shushan Purim as a congregation within a walled city (probably the only Jewish community in the UK) and held an adults only party on the 15th of Adar, thus enabling us to fulfill the obligation to drink whilst reading a modern version of the Purim story and eating hamantaschen, brought all the way from from Golders Green.
On Friday, a well attended children's party included activities for children aged from 15 weeks to 11 years old.   After making puppets, masks and noise makers (all the better to boo Haman with), the children told us the Purim story before eating and drinking and decorating gingerbread Haman and Ahasuerus
First Purim celebration in York as a walled city:
Purim is celebrated on the 14th of Adar, which falls this year on 23rd March, the day after the planned
extermination when Jews celebrate their survival. However in cities that were walled at the time of Joshua, Purim is celebrated on the 15th of Adar, because the book of Esther says that in Shushan (the capital of the Persian empire) deliverance from the planned massacre was not complete until the following day. As Shushan was a walled city, this tradition was extended to include all walled cities. The 15th is referred to as 'Shushan Purim'.
This Purim York Liberal Jewish Community is excited to be celebrating within the walls of York for the first time in living memory, and is probably the only Jewish community in the UK to be celebrating within a walled city on the 15th of Adar (which begins on the evening of 24th March).
YLJC is holding two events, one designed especially for adults and another for children, to which all are welcome:
Adults
Thursday 24th March, 8pm-late: Adults only, Purim Party with Student Rabbi Daniel Lichman, meeting the obligation to drink on Purim. Please come in fancy dress, perhaps as one of the characters from the Purim story (Brigantes Bar Upstairs Room, Mickelgate, pay bar).
Children
Friday 25th March, 12noon-2pm: Family Purim Party with food, games and the story of Purim
To find our more, please contact the Ben at York Liberal Jewish Community:
ben@benrich.co.uk or call 07469 159134 or visit www.jewsinyork.org.uk
Purim is a fun and joyous festival, especially enjoyed by children and those young at heart.
The Jewish festival of Purim is told in the book of Esther. Esther was a beautiful young Jewish woman who married the King of Persia and became his queen. However, the King's chief advisor Haman planned to exterminate the Jews as they would not bow down before him. When Esther told the King, he hanged Haman instead and did not destroy all the Jews in his kingdom, including his beloved Queen.