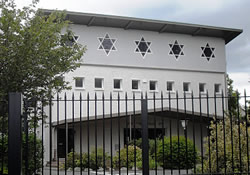 There are six synagogues in Ireland. Four of these are situated in Dublin including one Progressive/Liberal Congregation. There is a synagogue in both Belfast and Cork. All synagogues have regular Services except Cork, which cannot support its very small community. Apart from the progressive/liberal synagogue in Dublin, all others are Orthodox.
 Jewish Community in Dublin 
 Dublin Jewish Progressive Congregation 
The Jewish community is amongst Northern Ireland's oldest ethnic and religious minorities and has thrived over four or five generations. If today its numbers have declined, the Jewish community continues to play a significant role in the religious and cultural life of the province.
Belfast Jewish Community
Places of Jewish interest in Northern Ireland include the Jaffe fountain at the Victoria Centre mentioned above, the birthplace of Chaim Herzog on Cliftonpark Avenue (which is marked by a blue plaque) and the older of the two Jewish cemeteries, which is a separate plot located at the City Cemetery in west Belfast and which has been renovated in recent years. A portrait of Sir Otto Jaffe in mayoral garb is on display at Belfast City hall and the former business premises of Jaffe Brothers is today Ten Square Hotel at the back of City Hall. Visits to the synagogue are welcome and can be organised by contacting the community.

The Irish Jewish Museum
Situated in the former Beth Hamedrash Hagodel Synagogue, 3/4 Walworth Road, off Victoria Street, Dublin 8
It is maintained voluntarily and the exhibits range from old Irish Jewish artifacts to a mock-Jewish kitchen. Upstairs is a model of a typical Irish synagogue. This was actually a synagogue up until the 1970's when the Jewish population in Dublin depleted.
The museum is open to the public and is available for group visits.
Telephone: 353-1-453 1797
 Jewish Museum Ireland »